Create, rename and reorganise files and folders for easier file asset management
Digital Pigeon
9 June 2017
We've made a few updates to Digital Pigeon that should make your life easier. After all, this new feature is one of the most requested features we've had in the last little while! (You can request features here).
You can now create a new folder or rename files and folders from directly within an upload. This means you can modify folders from the dashboard, rather than separately on your computer and having to re-upload all your files and resend the link.
Create a new folder within an upload
To create a new folder, click on the more options button on the right hand side of the dashboard in list view. Once you've created a new folder, you can then drag and drop the files into whichever folders you like. This can also be used for sub-folders and can be achieved in existing uploads as well as within new and draft versions.
The video below quickly illustrates how to create multiple folders and populate them with existing files within an upload.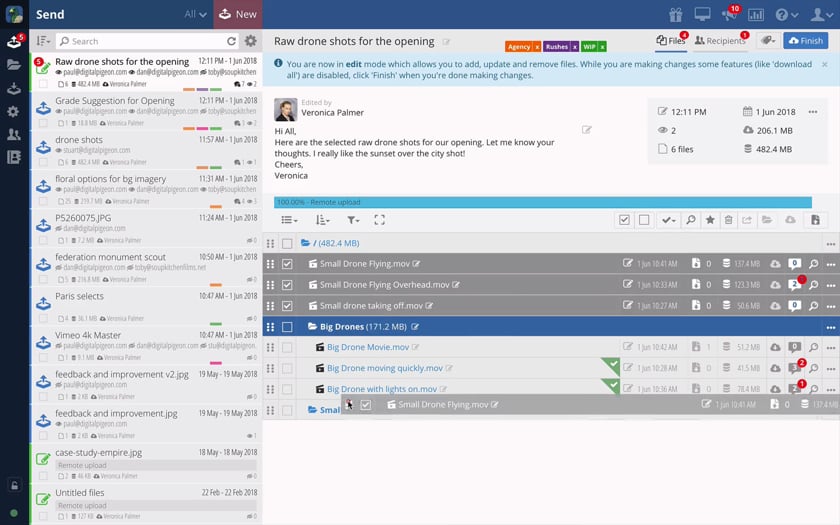 Renaming files and folders
You can also rename files and folders by clicking on the notepad icon located to the right-hand side of the filename.  The video below shows you how simple this is to do.
Renaming files can be achieved in any of the four available view modes.  Renaming folders can only be done in the File List mode.
Note: You may have noticed that when you make a change to an upload (renaming, new folders, etc), the software will automatically switch you into 'EDIT' mode. Make sure you click 'FINISH' when you're done making changes. Once you've clicked 'FINISH', Digital Pigeon will ask if you would like to notify the receiver that you've modified the upload.
Why have Digital Pigeon customers been asking us for this update?
The primary reason we've been contacted about this is for version control. If you're working on project and there's a version 2, you can immediately create a new folder directly within an existing upload.
This new feature means that you don't need to create a brand new upload, whether its a "Share" or "Send" for each version of your work.  It also means that clients can easily compare versions within one of your upload pages.
It also means that you won't need to go back and organise everything perfectly on your computer before uploading it to Digital Pigeon.
The secondary reason is that we all make mistakes! If you forgot to include a file, or added the wrong one initially - you can quickly make the change before anyone has opened it... and your client won't know the difference. No need to re-upload and send a new link... because when they access it, they'll only see what you want them to see!
How can we continue to improve our software for you?
We think this new update will make life simpler for our customers and make our software simpler to use.  Firstly, we'd love your feedback on it.  You can leave a comment below or email us!  Secondly, we'd love to know what other ideas you have... let us know here.